Coffee never ceases to amaze everyone, including those who are lactose intolerant. The range of lactose-intolerant coffees or soymilk beverages that Starbucks means you can enjoy your favorite cup of coffee without severe medical allergies or reactions. And I take it as one of coffee's greatest blessings.
Moreover, the fact that soy milk excludes any animal products itself means that it is vegan-friendly. Also, Starbucks' soy milk drinks mean that there are no compromises in the taste department. Coffee tastes just as good as it would have from other dairy sources. 
Best Starbucks' Soy Milk Drinks
Let's go through some of the best soymilk beverages that Starbucks has to offer.
Caramel Macchiato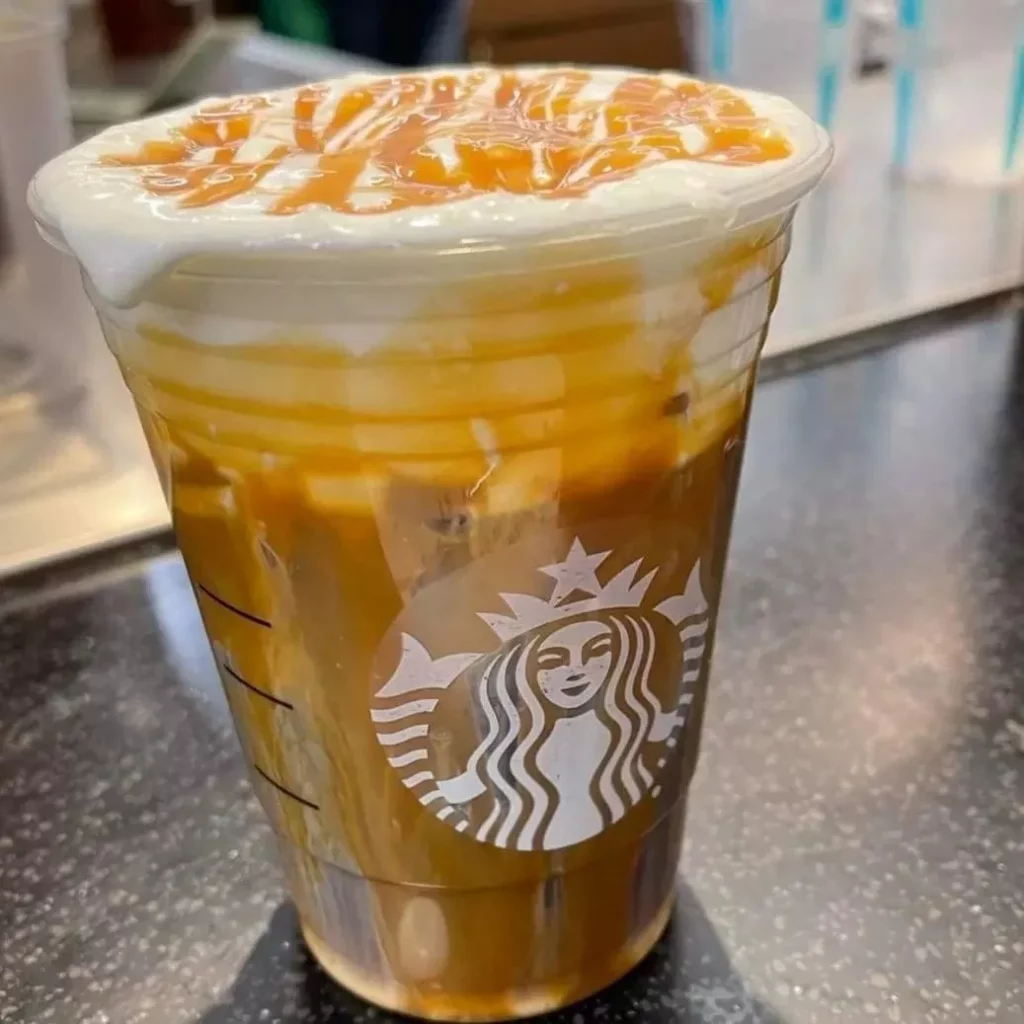 Caramel sauce dipped in freshly-brewed espresso is all you need to end a grueling day. Hence, the caramel macchiato makes for one of the most famous beverages that Starbucks offers. Moreover, the vanilla syrup ensures that the cup of coffee is kept rather sweet and light yet heavy. 
Also, Starbucks uses natural flavors to keep the taste more authentic and to the point. To top it off, Starbucks allows you to choose from a range of add-ons, including light (and heavy) chocolate malt powder and a plethora of sweeteners, including honey, sugar, and syrup. 
Those who want a little more of that caramel would be over the moon to hear that Starbucks allows you to top the coffee with an extra caramel drizzle. There are other add-ins, syrup flavors, and toppings that you can add to your Soy milk Caramel Macchiato, making your cup of coffee stand out. 
Even though these add-ins can cost a lot more, I assure you, it's worth every penny!
Cinnamon Dolce Latte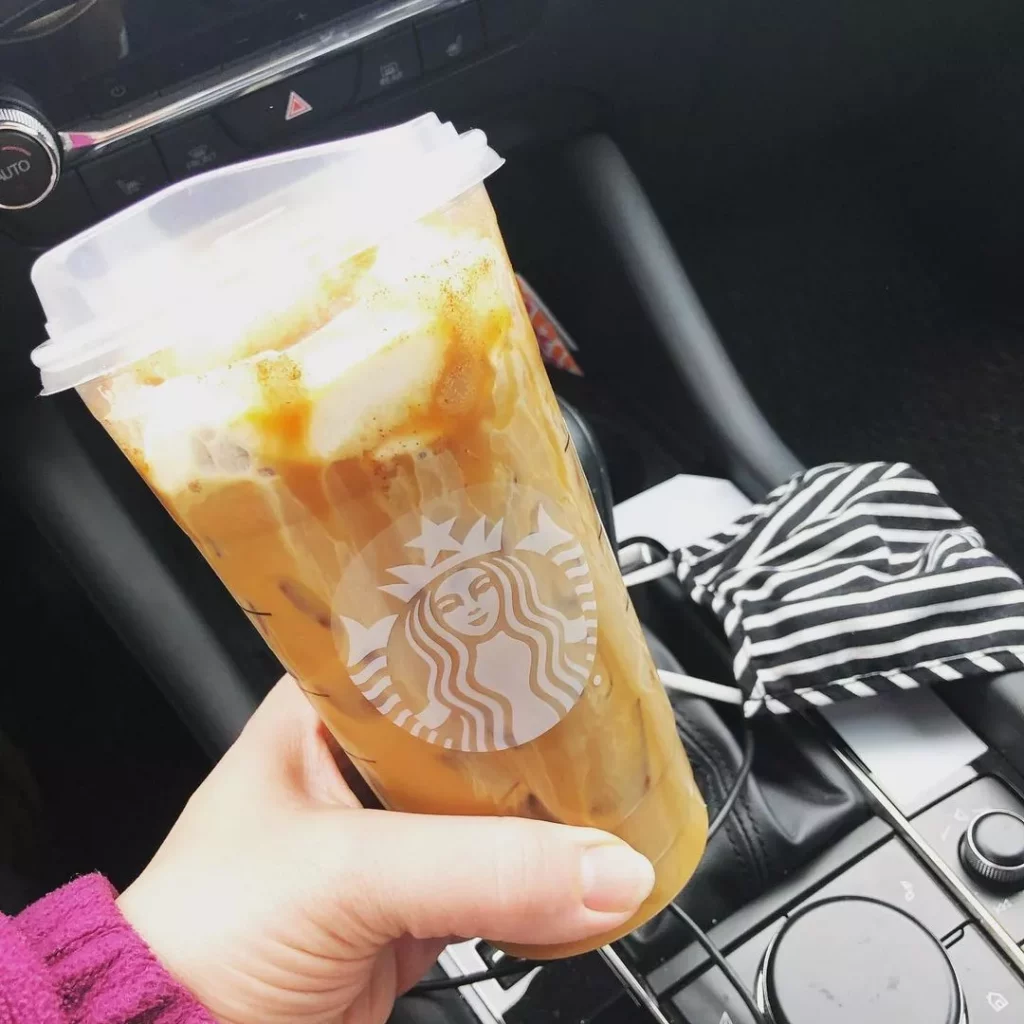 The list of the 'best Starbucks soy milk drinks' would feel incomplete without mentioning the cinnamon dolce latte. The drink has gained massive popularity amongst soy milk drinkers mainly because of its taste. 
The cinnamon dolce syrup and topping infuse the soy milk in a way that is indescribable by words. Eventually, you would have to taste a warm cup of Starbucks' cinnamon dolce latte (in soy milk) to know what Starbucks' has brought to the table. 
Moreover, the beverage includes vanilla syrup to add more sweetness and lightness to the coffee. Also, Starbucks ensures that all of its Cinnamon Dolce Lattes result from natural flavors with fewer flavor-enhancing chemicals, making the coffee taste more 'original.'
As with all other soy milk coffees on this list, Starbucks allows you to choose from a range of add-ins, including syrups, sauces, drizzles, and sweeteners, which makes for an even more flavorful soy milk coffee that will leave you wanting more. 
Pumpkin Spice Latte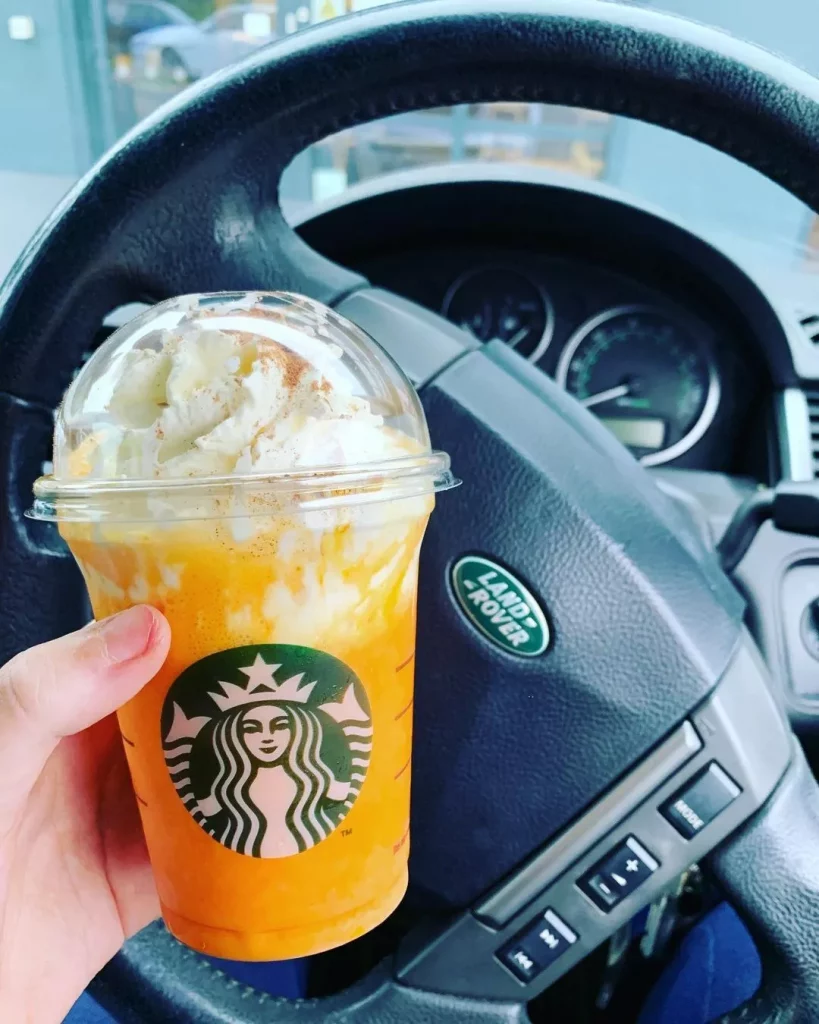 What better way to kick off the day than having a pumpkin spice sauce topped with soy milk? Regarded as one of the (many) weapons in Starbucks' arsenal, the pumpkin spice latte has been around for more than two decades, bewitching its users with its taste. Guaranteed, you'd be blown away by the cup's boldness (and lightness). 
More importantly, Starbucks' pumpkin spice latte uses other ingredients that help enrichen the coffee, such as nutmeg, ginger, and cinnamon. These ingredients – mixed with soymilk – are a treat to the tongue. 
Also, the added 50 grams of sugar and some light spicy notes give the tongue a very sharp yet sweet bite. Overall, it provides the users cozy-feeling vibes that make you feel like you're 'at home.' For me, a pumpkin spice latte topped with my favorite syrup and some chocolate powder is everything I could wish for in a coffee. 
However, too much sugar is something that some like and many dislike. Too much sugar reduces the 'bitterness' in the coffee. So, you should keep in mind the coffee's sugary content if you're a diet-centric person. 
For instance, you can avoid adding too many sugary add-ins and sweeteners if you have a controlled diet. Also, while ordering a soy milk beverage, ensure that the 'whipped cream' option is unticked from the coffee's add-ons, as the 'whipped cream' comes standard with all pumpkin spice lattes.  
Honey Almond Milk Latte
As the name suggests, Starbucks initially offered honey almond milk coffee in almond milk. However, Starbucks also allows you to choose the Honey Almond coffee in soy milk. The taste comprises a light bite from the blonde espresso roasts and a hint of honey in the form of an aftertaste. 
Also, the honey almond includes natural flavors that bring about an even rich taste. Also, the sugar content is kept a bit higher than average, which – together with honey – makes the coffee even sweeter. It makes for a great flat white coffee that tastes slightly different from regular balanced white coffees. 
Moreover, if the coffee still doesn't match your needs, I'd strongly recommend adding some add-ins and chocolate powders to enhance the coffee's taste further. According to several users, Starbucks' honey (soy milk) coffee tastes a bit bland occasionally, so it is recommended to couple the coffee with some add-ins and syrup flavors.
The (soymilk) honey almond coffee, equipped with the right flavors and add-ins, can do wonders and has the potential to become a permanent coffee to your morning routine.
Reserve Dark Chocolate Mocha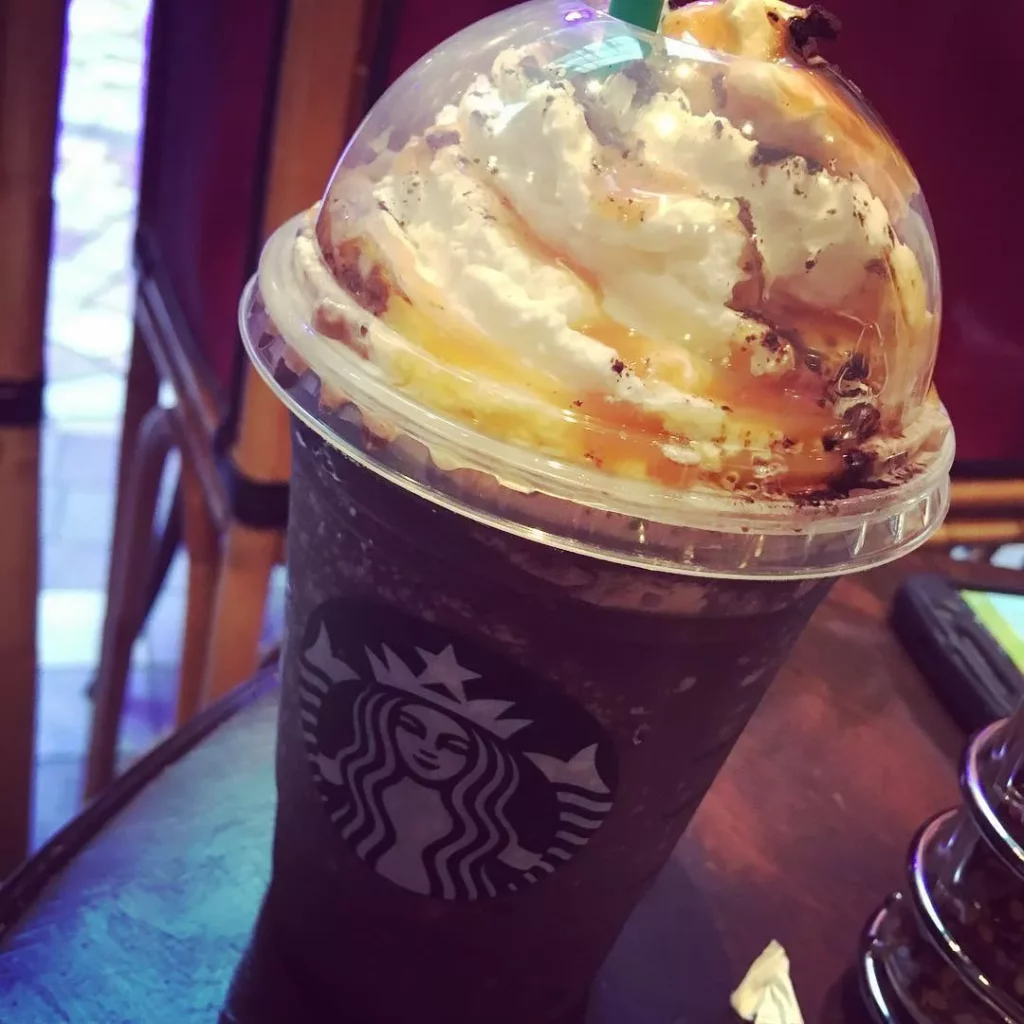 Those looking for a smooth cup of coffee while having a chocolate-frenzy have their answers in the form of a Starbucks' Reserve Dark Chocolate coffee. This calorie-full and caffeine-infused coffee will ensure your chocolate craze is met and that you are left with a rich and chocolatey aftertaste. 
Moreover, if you still feel the coffee isn't hitting that spot, you have complete freedom to add an even more intense chocolate powder and some cinnamon topping (or powder). A combination of these flavors can strike a perfect balance between the sweetness and bitterness levels of the coffee. 
If you fancy a deep and rich-bodied chocolate flavor in your coffee with soy milk, look no further than Starbucks' reserve dark chocolate coffee. Also, the fact that Starbucks gives complete freedom in choosing between a range of toppings, flavors, and powders, means that you can experiment with the coffee, which is a treat for those who have an eye for detail. 
Brown Sugar Oat Americano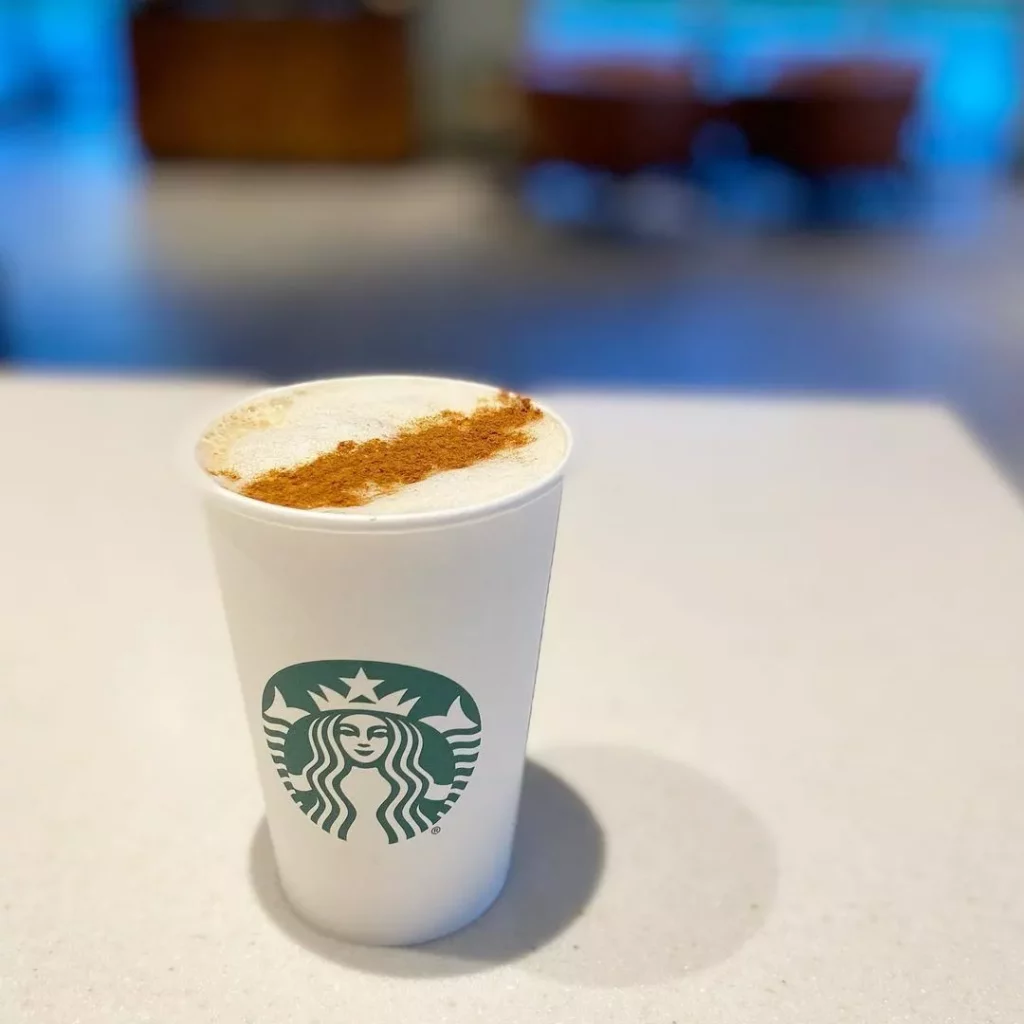 Upon first glance, you would immediately conclude that the brown sugar oat americano can only be served in oat milk. However, that is where you'd be wrong. Starbucks serves you the brown sugar oat americano in soy milk without much affecting the taste of the coffee. 
Typically, a brown sugar oat americano from Starbucks tastes relatively light and sweet, thanks to the 4 pumps of brown sugar syrup in the coffee. You can immediately tell the cinnamon notes in a sip of the coffee. Also, the soy milk does an excellent job of mixing well with the brown sugar and giving the coffee an almost woody, smoky touch. 
That said, if you're still not satisfied with the brown sugar content in your coffee, you can always opt for more flavors, powders, and liquid sweeteners. All such add-ins will make for an even more immersive coffee taste for your(soy milk) brown sugar oat americano.
Therefore, a soy milk brown sugar oat americano coupled with the right flavors and add-ins can be a great way to kick off your morning and certainly uplift your mood. 
Apple Crisp Macchiato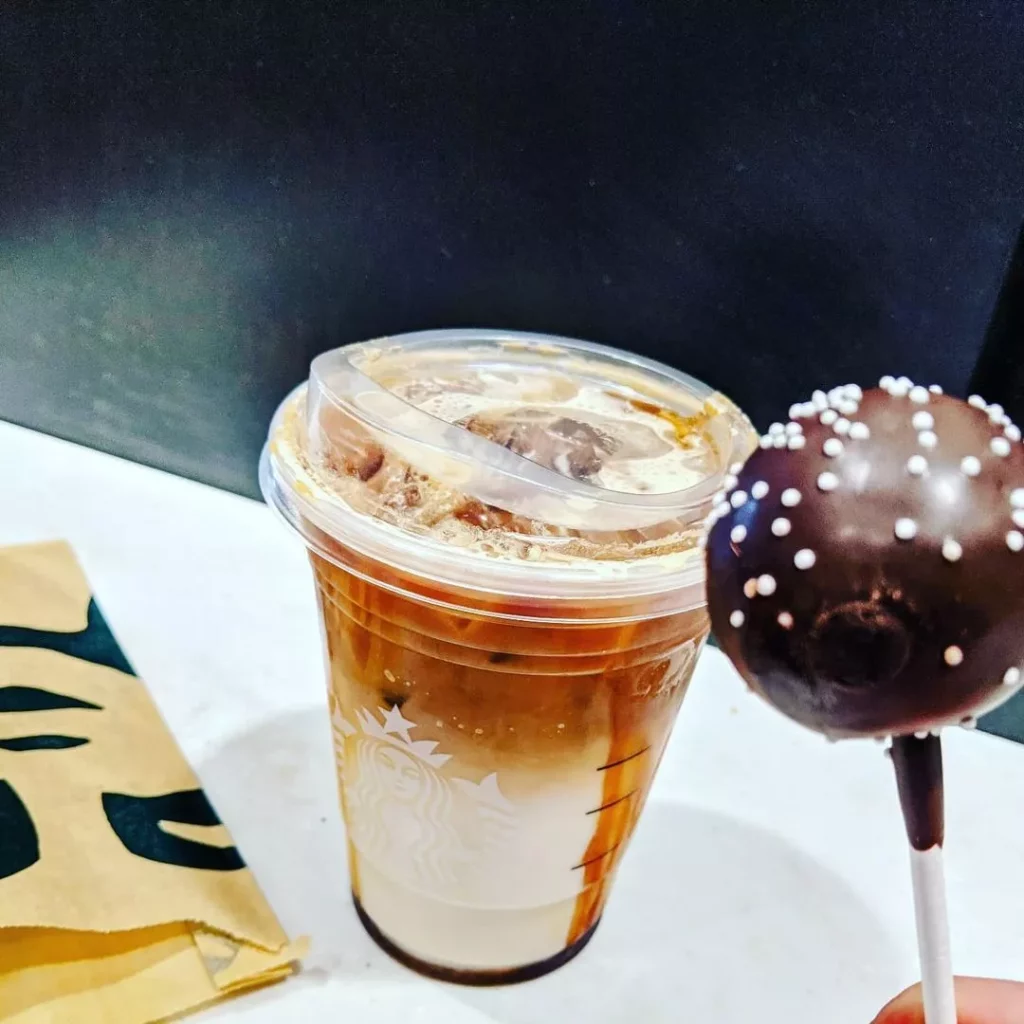 If you're one of the types who fancy an apple pie and a coffee simultaneously, the apple crisp macchiato from Starbucks is what you're looking for. Yes, you can also have a fruit – or berry – to your caffeine-packed soy milk coffee. 
This coffee combines apple brown sugar drizzle, spiced apple drizzle, and other apple concentrates such as apple puree and apple juice. The apple-ness is backed by caffeine, which makes for a great morning beverage, especially if you have a long day planned ahead of you. 
Plus, there's an element of brown sugar present in the apple crisp macchiato that gives off fall-like vibes. However, the main highlight of the apple crisp macchiato (for me, at least) is the freedom to add more pumps of different flavors, including hazelnut, raspberry, peppermint, and vanilla as well. 
An apple crisp macchiato matched with the right add-ins and ingredients can go a long way In balancing the subtle apple notes with the tanginess of the soy milk. Together, these ingredients make for a candy-like flavor with some hints of brown sugar. 
According to many users, the apple crisp macchiato doesn't feel like overkill at all. Instead, the coffee retains the lighter 'fall' notes that give off very comforting, cozy vibes. 
London Fog Tea Latte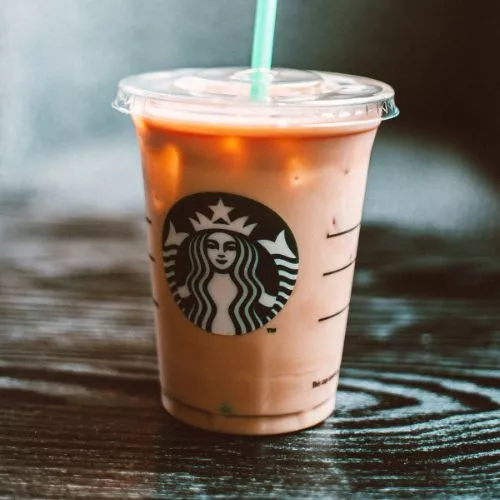 Starbucks' London fog tea is a reminiscence of the cozy, warm feeling and bustling streets of London. It's perfect for you if you are craving tea and coffee at the same time. According to Starbucks' website, a London fog tea latte comprises 4 pumps of vanilla with subtle hints of a lavender floral scent that gives the coffee a unique taste.
Moreover, Starbucks uses bergamot essence in its London fog tea, which is known for alleviating stress, pain, and depression. So, the London fog tea is essential for those who want an escape from anxiety while having their favorite cup of coffee. 
Also, the 4 pumps of vanilla help the coffee develop an extremely light note. 4 pumps of vanilla (and soy milk) mixed with the 'Earl Grey tea,' and you've got yourself a luxurious, relaxing beverage. 
However, it is essential to note that too much vanilla can easily overshadow the caffeine and the strong, harsh bitterness that coffee carries. Also, it is why a London fog tea has a lesser caffeine amount than the amount found in other Starbucks coffees. For many, a mere 40mg of caffeine isn't enough to kick-start their day. 
That said, too much caffeine or darker roasts can disbalance the coffee itself. Nevertheless, the London fog tea makes for a great relaxing coffee that one may opt for after the end of an arduous day. 
Final Thoughts
Be it a vegan or a lactose-intolerant person, Starbucks has an answer for all. Yes, Starbucks coffees come with a hefty price tag, but – still –  no one can beat Starbucks when it comes to nailing taste profiles and balancing the sweetness with bitterness perfectly. And I think that its coffees are worth every penny.
More importantly, Starbucks has given the soymilk users complete freedom in adding a range of flavors, syrups, sweeteners, and powders, making for an even better and rich-bodied cup of coffee.