Are you on the market for a new Pour Over Coffee Maker? I know exactly how daunting it can be to even begin to research any type of home appliance these days. There are just so many options out there.
Fear not! I have compiled and ranked the best Pour Over coffee Makers that are extremely easy to use, completely hassle-free, and will not drain your wallet buying all the accessories.
If you're in a rush, here's the short answer:
Best Overall:  Coffee Gator's Pour Over Maker (Latest price on Amazon)
Best budget option:  Bodum Pour Over Coffee Maker (Latest price on Amazon)
Best Insulated option: Asobu Red Coffee Maker (Latest price on Amazon)
Read on and find that one device that fills the cup-shaped hole in your heart, or your kitchen!
Best Pour Over Coffee Maker with Reusable Filter
Below is a detailed list with more information on each coffee maker, specific features, pros, and cons, as well as what buyers think.
1. Coffee Gator's Pour-Over Coffee Maker
Gator might be the noblest substitute for Chemex (Minus the need for fancy filters) and this is not a drill!
This coffee maker will get the most out of your tasty coffee beans and provide an excellent flavor.
Gator has a durable heat-resistant glass and 100% BPA-free carafe that will minimize the trouble and offer you quality coffee in the morning.
Thanks to its laser-cut stainless steel mesh filter, there will be no more annoying paper filter switch which means you save the planet you love, the flavor will be fully yours to taste with no extra spending on filters.
The capacity of a Gator is 3 cups and it only weighs 0.9 pounds.
Pros:
Stainless steel laser-cut filter
Saves the full taste experience
Cons:
Thin glass; it's not borosilicate glass
Needs extra care when washing
What People Are Saying:
Users find it very easy to use and quite practical when it comes to making coffee, especially if you're in a hurry for that morning caffeine buzz.
2. COSORI Pour Over Coffee Maker
Now, this COSORI coffee maker has quite the resemblance to Chemex it almost looks like a long-lost son.
The great part about this one is that you can even put it directly on the stove without hesitation. This superpower comes from its high-borosilicate glass which is very resistant to heat.
It consists of dual layers of 304 stainless steel that will extract all those oils from coffee grounds and let them infuse into the coffee.
The COSORI coffee maker is also very easy to handle, it comes with its manual, and is totally dishwasher friendly.
Pros:
High-borosilicate glass, resistant to low flame on the stove
304 stainless steel filter with dual layers
Large capacity of 34-ounze decanter
Cons:
Doesn't support large batches of coffee as you have to calculate the water ratio
What People Are Saying:
The users love the bamboo wrap, they also appreciate how practical this coffee maker is. However, some do complain about the fact that they still cannot brew big batches of coffee as the filter basket will get full and make the process harder.
3. Asobu Red Insulated Pour Over Coffee Maker
Manufactured by Ad N Art, Asobu is not your usual pour-over coffee maker as it has quite an innovative style.
Designed with double-wall copper-lined vacuum insulation and stainless steel, the Pour-Over PO300 by Asobu is an elegant hourglass-shaped device that delivers quality brew.
Additionally, its 32-ounce (4 cups) stainless steel vacuum insulated portable carafe doesn't just store your coffee but also keeps it warm throughout the day.
Its collar filter is removable and you can add a leakproof screw-on lid that gives you the opportunity to carry this little magician literally everywhere.
The device has a stainless lid, allowing the coffee to stay warm for up to 12 hours after it's closed.
Moreover, its micromesh stainless steel filter ensures that any unwanted elements are kept in there and provides a hot and fresh coffee.
Asobu comes in these dimensions: 9.37 x 6.25 x 6.25 inches, and weighs 2 pounds.
The Pour Over PO300 is also spill-proof and very easy to use.
Pros:
Heat-resistant borosilicate glass, double wall copper-lined
Ergonomic, easy-carry design
Durable with stainless-steel micro-mesh filter
Great for large quantities
Cons:
The lid is hard to remove, especially when over-tightened.
Difficulty holding/pouring as there is no handle
Not dishwasher friendly & Not portable.
What People Are Saying:
Buyers complemented the quality coffee and the stylish look of the PO300.
Most love the fact that they don't need to be extra careful with the glass; the coffee stays fresh and hot due to its copper design.
4. Coffee Bear's Pour-Over Coffee Maker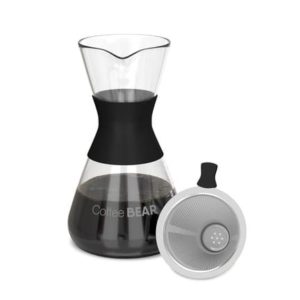 Coffee Bear is made of BPA-free borosilicate glass with a 20 oz. capacity carafe. It consists of a stainless steel metal filter that prevents coffee grounds from slipping into your mug.
Additionally, the glass has measurement markings to provide an accurate coffee pour.
Pros:
Safety rubber grip for hand protection
Cons:
Borosilicate glass but thinner than usual so needs extra care when cleaned
What People Are Saying:
Most users are highly satisfied with the coffee quality but skeptical when it comes to its thin glass as it may be tricky to clean and needs extra care.
5. Bodum Pour Over Coffee Maker
This pour-over coffee maker will instantly get your attention due to its smooth design and elegant shape. It is made from premium quality borosilicate glass that is heat-resistant and won't absorb the aroma of coffee.
Bodum's Coffee maker also includes a permanent, stainless steel mesh filter that will cultivate those aromatic oils for your morning cuppa.
The device is pretty easy to use and hassle-free. All you need to do is add coffee onto the filter, pour a little hot water until the grounds are soaked, then add the rest of the water and let this super cute Bodum coffee maker do its magic!
So while its adorable design aesthetic is bound to be a stylish addition to any kitchen, it's the resulting full-bodied, aromatic cup of coffee it produces that will win your heart.
The filter comes as an added accessory when you buy the Coffee Maker and is detachable, making the cleaning step easy. The complete set is also dishwasher safe.
This coffee maker comes in these dimensions 5.43 x 0.87 x 5.43 inches and weighs 2.1 pounds. Never stepping out of its elegance, it comes in black color.
Pros:
Barista quality coffee in such short time
Eco friendly brewing method; no paper filters or plastic cups
Borosilicate glass that doesn't take away the rich aroma and taste
Cons:
Awkward to hold it or pour coffee
Glass doesn't keep the coffee warm for too long
Not as durable as a steel appliance
Only works for 1-3 servings or cups of coffee
What People Are Saying:
Bodum is a bestseller so far and the users love the fact they won't have to deal with paper filters all the time. Its price is quite affordable and it offers a memorable coffee taste without unnecessary bitterness.
6. Primula Park Set
Primula Park is quite a noticeable pour-over coffee maker, differing from the rest with its slightly different design.
The product comes with a woodgrain handle, this means zero worries when it comes to holding it or pouring coffee. Its design consists of a 36-ounce borosilicate glass carafe and a mesh stainless steel filter.
Dimensions of Primula Park are 10.5 x 7.1 x 6.8 inches and it weighs 2.44 pounds.
An important detail about this charmer is its rubber base which protects the glass from sliding and breaking.
Pros:
Superior filter system, fine mesh stainless steel
Woodgrain handle that offers maximum stability
Cons:
The filter is part-plastic
What People Are Saying:
A lot of users are recommending this coffee maker because it can save you quite some time by making a good portion of coffee due to its large size.
The process is quite easy as well, ensuring great coffee without losing flavor elements.
7. Kavako Pour Over Coffee Maker
Kavako has a special and unique design. Its glass is solid borosilicate that endures any thermal shock and doesn't absorb the coffee taste or smell.
The filter is also very well designed, being a laser-cut double filter with an additional mesh inside and curved flow channels, guaranteeing great caffeine extraction.
The extra special addition which makes this coffee maker unique is the cork lid that can prevent any oopsie spill while also keeping the coffee warm for a while.
Another element that adds even more to its special design is the stylish collar that comes in different colors and allows for easy pouring even when the coffee is burning hot.
Pros:
Practical design that offers stability when pouring
Double laser-cut layer with additional mesh
Heat resistant leather collar
Borosilicate glass carafe
Cons:
Needs extra care when cleaning
What People Are Saying:
Many users are amazed at how heat-resistant Kavako's glass is and overall they have a positive experience in their everyday use. Some confirm that they can even prepare tea with this coffee maker which is the definition of a coffee bestie that can do anything.
8. Woodneck Drip Pot by Hario
If your choice of coffee is a French Press but you don't like the hassle every morning, the Woodneck Drip Pot by Hario should be your Pour-Over Coffee Maker of choice.
The manual brewer comes with a built-in cloth filter basket that lets you truly enjoy making a soothing cup of coffee. It comes in two different sizes: one for single servings, and another for two to three cups of coffee.
The drip pot is extremely easy to use, but not to be handled in a hasty and rushed manner – this is for those that enjoy every last drop of their coffee.
The device is also extremely attractive and will look good on any counter-top.
Pros:
Produces high-quality coffee
Comes with a built-in filter
Great value for the money
Cons
Cloth filter requires special upkeep
Not as durable as a steel appliance
Only works for 1-3 servings or cups of coffee
What People Are Saying:
Customers love the ingenious cloth filter basket and the exquisite taste that it produces.
That said, the cloth filter does require special care, but if you are looking for a quality brew while shopping on a budget, this device by Hario is your best friend.
9. Osaka Pour-Over Coffee Maker
Osaka's pour-over coffee maker has an eye-catching design as it almost looks like an earbud. Although it may look small at first glance, this coffee maker has the capacity to serve up to 7 cups.
Its filter is double-layered and laser-cut to provide the full coffee taste. Its borosilicate heat-resistant glass carafe has a 1.1-liter capacity and it's easy to wash.
The device will not absorb the odor or any chemicals. And it comes with a glass lid covering the top of the carafe and keeping the coffee warm.
Pros:
1.1 liter capacity that serves up to 7 cups
Carafe made of borosilicate heat-resistant glass
Colored PP collar that protects the skin from heat
Cons:
Filter is tricky to clean, needs to have its proper filter cleaning tool
The glass is thin and doesn't keep the coffee hot for too long
What People Are Saying:
Most users are impressed with the appliance since it produces smooth and high-quality coffee. It's also quite practical for everyday use.
10. Karlsbad Coffee Maker by Wakure Porcelain Factory
Termed the "Cadillac of Pour Over Coffee Makers", the Karlsbad Coffee Maker combines efficiency with style.
The best part about this device is that it is an all-in-one system that has a built-in sieve that essentially works as a filter.
All you need to do is add your coffee grounds followed by hot water, and this exquisite, porcelain work of art will deliver a high-quality brew every single time.
The device is made up of three essential parts – the water compartment, a double sieve that gently removes fats, oils, and acids, and the coffee pot.
Pros:
Produces high-quality coffee
Comes with a built-in filter
Cons
Only works for 1-3 servings or cups of coffee
Not as durable as a steel appliance
What People Are Saying:
The Walkure brand is currently revisiting some of its designs and will re-release the Coffee Makers early this year. Going by the reviews for the old models, this new version also promises great quality.
11. Osaka Mount Zao Pour-Over Coffee Station
Promising a "rich-tasting, balanced cup of coffee", the Osaka Mount Zao Pour-Over Coffee Station is just that – an all-encompassing coffee station that produces a complete, fresh-tasting coffee every time you brew.
The system is essentially made up of a 20-ounce (2-3 cups) borosilicate glass carafe that is perched on a wooden stand and topped with a double stainless-steel mesh filter.
Mount Zao is easy to use and comes with a special cleaning solution for the filters. It is also extremely easy on the eyes and makes a great conversation starter, from my personal experience.
Pros:
Produces high-quality coffee
Comes with a reusable filter
Cons
Not as durable as a steel appliance
Only works for 1-3 servings or cups of coffee
What People Are Saying:
Overall Mout Zao has brilliant reviews by past customers, with one terming it as "happiness in a coffee maker".
12. OAMCEG's Pour-Over Coffee Maker
This coffee maker is indeed a work of art. It consists of an anti-scald and heat-resistant wooden handle that will be your protective mitten when pouring coffee. Its V-shaped spout will prevent you from dripping coffee.
The coffee will stay hot for a long period due to its durable BPA-free thick borosilicate glass. Of course, this piece of coffee inspiring art comes with a stainless steel filter.
The glass can easily resist a shift in temperature from -20℃ to +150℃ and won't shatter.
OAMCEG's Pour-Over coffee maker is also super easy to use and clean.
The dimensions of this coffee maker are 9.49 x 5.39 x 5.35 inches and it weighs 1.23 pounds.
Pros:
Artisanal glass coffee dripper
Wooden handle that gives it firm stability when pouring and protects from heat
Made of BPA free thick borosilicate glass
Cons:
Doesn't hold heat for long
Tricky to clean the bottom part due to its narrow middle
What People Are Saying:
A lot of consumers are surprised but also very content that such an aesthetic coffee maker comes at an affordable price with overall undeniable quality.
It doesn't take them a lot of effort to adjust to it and at the end of the day, even if they let the coffee soak a little bit more, it's worth it because the entire flavor is extracted in a splendid way.
What to Look for in a Pour Over Coffee Maker?
If you're still confused about which model would work best for you, do make sure to thoroughly read and understand the things to consider before buying a Pour Over Coffee Maker:
Portability
Are you planning to travel with your coffee maker?
Or is it just going to sit on your kitchen counter?
Most portable pour-over coffee makers tend to be flimsy and lightweight for good reason. But it is best to go for a metal one, even if it might be a little heavier. Metal is durable and always lasts longer than any other material.
If you are not planning to travel with your pour-over coffee maker, it is best to look past the portable models, no matter how cute or attractive they are.
Built-In Carafe
Most of the non-portable pour-over coffee makers will have a built-in carafe where the filtered coffee is collected before being transferred into your cup.
It is best to go with coffee makers that have carafes made of ceramic, glass, or stainless steel as those materials preserve heat the best.
Capacity
There are several types of pour-over coffee makers available in the market, ranging from models with just a single cup capacity to those that can hold up to 8 cups of filter coffee.
The choice here ultimately depends on your usage – a larger capacity would probably work better if you are buying for an office space or big household, whereas if you live alone or with 2-3 more people, a smaller coffee maker is probably sufficient.
Reusable Filter
If you landed on my article already aiming to buy a pour-over coffee maker with a reusable filter, you got this one right!
Most pour-over coffee makers do not come with an attached filter. You are usually required to buy your own disposable filters, sometimes even very specific types of filters that tend to add to your cost.
My recommendation is to look for a pour-over coffee maker that has a built-in filter or comes with a reusable filter. It makes life a lot easier, apart from the tiny bit of extra cleaning you need to do.
Nonetheless, if you have your mind set on a pour-over coffee maker that does not come with a fitted or reusable filter, there is always the option to buy a reusable one separately.
However, before making any purchase, do make sure that it is compatible with your device. It is best to ask some at the store itself as they would be able to advise you on compatibility and maybe even let you try on a few if they stock up on filters too.
Why Choose a Reusable Filter?
Now, as you may already know, sustainability and environment-friendly products have been on the rise in the past few years.
The urgent need to reverse the damage we have done to our planet is being understood and responded to by all industries, the coffee world included.
With the models listed above, it is clear that more and more companies are working towards creating products that last longer and consume less. Yes, there are certain drawbacks with reusable filters, like having to clean them after every use rather than chucking them straight in the bin.
But, the effort of cleaning in front of the difference your choice will make towards saving the planet amounts to absolutely nothing.
Invest in Durability
If you take care of your permanent filter, like you do your coffee maker, it will last you for years. This also means that you will be spending a lot less on filters for your daily brew.
I know what you are thinking – disposable filters don't cost that much, to begin with! Yes, you are absolutely right, but that doesn't necessarily make me wrong.
Even small costs add up. For instance, an average pack of 200 disposable filters can cost you between 5$ and to 20$. Taking 12.5$ as an average and assuming that you drink 2 cups of coffee a day, your yearly expenses with regards to filters would be 45$.
That's 225$ for 5 years, which is a large hole in your wallet as compared to the 20$-40$ you might spend on a quality reusable filter.
In fact, you can get reusable filters for cheaper than that too, but I would usually recommend going for the highest quality one to ensure durability.
Better Coffee
There have been extensive comparative studies for disposable and reusable filters with regard to coffee's taste. Disposable filters, especially paper filters, tend to absorb a lot of the oils from the coffee grounds that make your brew taste so good.
Permanent filters on the other hand, which are generally made of cloth or metal, let all the oils and aroma flow into your coffee resulting in a richer and bolder cuppa.
Save Space in Your Pantry
Anyone who uses disposable filters knows that it is always better cost-wise to buy them in bulk. However, buying in bulk also means the boxes and filter packs are going to take up lots of empty space in your pantry or kitchen.
Needless to say, with a permanent filter, you have all the space you need to keep your yummy snacks and coffee beans.
No Breakages and Leakages
Disposable filters, especially the cheap ones, are notorious for breaking, tearing, or just simply giving way in the middle of your filter process leaving you completely devastated.
You don't have to worry about any of that with permanent filters which are much sturdier and firm, and never give up easily.
Final Thoughts
I hope that you were able to find something on this list that caught your eye or had your mouth watering for that fresh cup of brew. Or at least convinced you to switch to a reusable filter and do your part in saving the earth.
Don't forget to share your thoughts on any other brands and models that you love with us.
We would also love to hear about other changes you have made to the coffee routine that has helped you reduce your carbon footprint, whether it's an experimental new appliance or a neat recycling process. We want to hear it all!