Compak coffee grinders are selling like hot buns, but which of these is best for you? This guide will compare Compak K3 advanced touch with Compak K6, discuss the pros and cons of each, and compare both machines so you can choose the best for yourself. Let's dig into the details!
Compak k3 vs k6 Detailed comparison: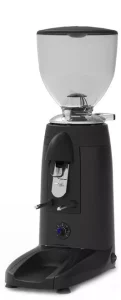 Compak K6 is simply an advanced version with more features and a greater grinder power than Compak k3. It is best for cafe shops and professional baristas as it has larger burrs that can grind more precisely and intensively.
With a built-in tamper, you can save time and make the coffee grinding process more efficient.
The K6 offers a bigger hopper, more suitable for cafes where refilling frequently is not a convenient option. Moreover, Compak k6 has a parallel burr mechanism that reduces noises and keeps the burr aligned, reducing wobbliness and grinding more effectively.
Let's discuss each specification and compare the two further.
1. Flat Burrs
Both Compak k3 and k6 use flat burrs which are sharp-edged discs that rotate to grind the coffee beans in between. Flat burrs grind the beans smoothly, enhancing the sweetness of your coffee beans. In comparison, the conical burrs grind the beans in a way that pronounces the fruity scent of coffee.
The difference, however, is the size of flat burrs. Compak k3 uses 58 mm flat burrs. Whereas Compak k6 uses 64 mm flat blurs. Bigger burrs offer pro-level accuracy and precision in grinding.
If you're all about high-end gadgets and professional-level coffee grinding, then Compak K6 offers better precision.
In the end, both have flat burrs that enhance your coffee's sweet flavor and are great if you like some sweetness in your life.  
2. Parallel Burr mechanism
You will find an added parallel burr mechanism in Compak k6 that keeps the burrs in perfect alignment and grinds coffee more evenly, reducing wobbling and excessive noise. This mechanism is not found in Compak k3.
3. Size of hopper
Hoppers hold your coffee beans, and it sits atop the coffee grinder. Compak k3 offers a petit-sized hopper that can carry 200g worth of coffee beans. The size fits well in any cabinet and is best for a minimal kitchen arrangement.
On the other hand, Compak k6 has a bigger hopper that can carry about 1700g of coffee beans. This is best for cafes and restaurants where refilling the hopper frequently is not convenient.
4. Built-in Tamper
There is no built-in tamper in k3, as opposed to the K6. The built-in tamper does save you time as you don't have to remove the portafilter and prep the coffee separately.
5. Automatic grinding
You can have both automatic and manual grinding in Compak k3 and k6. Both grinders offer the feature of pre-setting the dosing time. You can switch between automatic or manual dosing by pushing the button on the side of the machine.
In manual dosing, just push the aluminum lever with the portafilter and remove once done. In automatic mode, you can simply place the portafilter in its holder and carry out other tasks while the machine doses within its pre-set timing.
6. Stepless fineness control
Both Compak k3 and k6 offer stepless fineness control that is placed right below the hopper. You can adjust the fineness to a great degree with ease. Just rotate the control and adjust the meter according to your desired fineness.
In comparison, you will come across stepped grinders from which the manufacturers have already defined the fineness levels to choose from. As a professional, you would definitely hate that feature.
But Compak understands us as coffee aficionados and offers us the flexibility of choosing finesses of the ground beans!
7. Motor power
Motor power refers to the machine's power to run and grind the coffee. Higher power means greater precision and a quicker job.
Compak k3 motor power is 250 Watts, which is less powerful when compared to Compak k6's 350 watts.
K6 is more efficient than k3 and can dose more coffee in an hour, making it more convenient for coffee shops where you have to entertain a big line of customers.
8. Cleaning
Both Compak k3 and k6 are very easy to maintain and clean. The large catch tray keeps the residual coffee powder from causing a mess on your counter.
You can remove it easily in both machines and adjust it back in place after emptying and cleaning.
Furthermore, you can also dismantle the hopper and the top adjustment to clean the burrs with a brush or a vacuum.
9. Design
Both Compak grinders are made of a high-quality aluminum body that comes in matt white and black and red colors.
10. Pricing
Compak k6 has more advanced features, which is why it's pricier, and rightfully so. It's a fair trade between functionality and price.
You get Compak k3 within the range of $600-$700. On the other hand, Compak k6 will cost you between $1000-$1200.
The Verdict: Which one to go for?
It's okay to be still a little confused about choosing the Compak machine. After all, your choice will affect your coffee-making experience and we, coffee freaks, are quite sensitive about this!
To make your decision easy, consider the following:
If you want a grinder for your kitchen, we suggest you go for Compak k3 as it is small in size, more compact, and offers great functionality. It is more suitable for small households and easy on the wallet.
So, if you're shifting to a new apartment or just need a grinder for your small family and occasional guests, Compak k3 will do the job just perfectly.
On the other hand, if you are a coffee shop owner, then k3 might not suffice for the workload.
Compak k6 is your best friend in this scenario. It offers a bigger hopper capacity, higher motor power, bigger burrs, and of course, higher efficiency.
Unlike k3, k6 is capable of grinding more coffee per hour i.e., 23-27 pounds. It has a built-in tamper that will save you time and effort.
Compak k3 Touch vs Push
While searching for Compak k3, you must have encountered its two variations: "touch advanced" and "push grinder OD." The main difference between the two is the flexibility to set the dosing time.
Compak Touch Advanced lets you pre-set a timed dose along with manual dosing. On the other hand, a Push Grinder does not offer the automatic feature, and you have to manually push the lever with your portafilter in order to dose out ground coffee.
One other difference is the cost; Compak k3 touch advanced is slightly pricier than push grinder OD.
Compak K3 advanced touch lets you enter your required dosing time so you can carry out other tasks side by side while the grinder 'burrs' its magic! It's easy to operate and maintain. And it churns out great coffee! Moreover, you can use both the manual and automatic dosing features for your coffee.
Take home message
Ask yourself why you're buying. Do you want higher efficiency, a bigger machine, or a more powerful motor? Or can you make do with average motor power and a petit hopper? The answer lies in your application.
Both Compak k3 and k6 are treasured worldwide and used by many coffee shop owners and families. Investing in either of the two will make your life easier.
Final thoughts:
Do you want to bridge the gap between grinding coffee at home and grinding coffee at a cafe? Or are you just tired of making coffee at home that doesn't taste as good as that of Starbucks? It would be best if you bought a high-tech, easy-to-maintain, and efficient coffee bean grinder that can bring out the real taste of your espresso.  
Jesus Ascaso is the man who we all owe for creating Compak. Since 1952, Compak has been introducing the most efficient and advanced coffee grinders seen in almost every local coffee shop. If you're searching for Compak k6 or k3, you're already on the right route!
We hope this article helps you make the best decision for yourself and your family. Happy grinding!