Has this ever happened to you? You went to Starbucks hoping to get a regular joe but got confused instead by their unconventional cup sizes. Trust me, I've been there.
So what's up with the unique lingo? I mean, why can't they use small, medium, and large sizes like the rest of the world? Turns out, it all started when the brand CEO Howard Schultz visited Italy and witnessed the local coffee culture. The community of coffee admirers and their passion for brewing inspired him to introduce the same experience to American coffee lovers.
Hence, Starbucks evolved from a coffee joint to a place of human connection and community. It's reflected in the naming of different cup sizes.
All Iced coffee cup sizes in a glance 
Starbucks' iced coffee is available in Tall, Grande, Venti (Iced version), and Trenta sizes. You may notice that Venti Cold and Trenta are the largest of all sizes, and they are there to accommodate ice cubes in the coffee.  
Starbucks' cup sizes aren't too different from the conventional sizes. A quick glance at this table can give you the gist of it. Just for reference, a regular glass of water is roughly 12 oz.
| | | | |
| --- | --- | --- | --- |
| Cup Sizes | In Oz. | In ml. | Types of Coffee |
| Demi | 3 | ~90 | Hot |
| Short | 8 | ~240 | Hot |
| Tall | 12 | ~355 |  Hot & Iced |
| Grande | 16 | ~470 |  Hot & Iced |
| Venti Hot | 20 | ~590 | Hot |
| Venti Cold | 24 | ~710 | Iced |
| Trenta | 31 | ~920 | Iced |
Starbucks Iced Coffee Cup Sizes in Oz and ml
Which Starbucks size is the best value?
According to the Starbucks long-time employees, you can get the best value by ordering Grande and Venti sizes. For a few cents more, you get more ounces of coffee which are highly economical. Grande is 16 oz, and Venti is 20 oz. for hot and 24 oz. for cold brews.
Smaller Starbucks sizes like demi, short, and Tall offer the least value.
Frappuccino cup sizes
Starbucks' all-time favorite coffee milkshakes are available in three sizes. Tall, Grande and Venti.
Hot Coffee cup sizes
Starbucks' hot coffee, like pick place roast or regular hot brew, is available in four sizes: Short, Tall, Grande, and Venti Hot.
Difference between Starbucks' Iced Coffee cup sizes?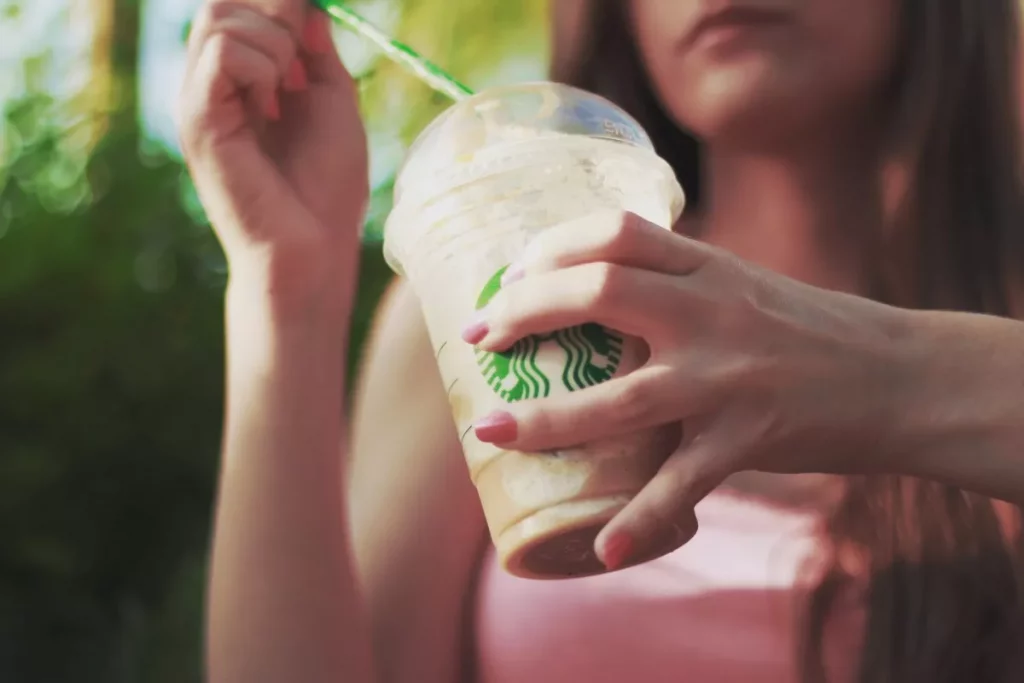 Tall
"Tall" is the smallest size for iced coffee and Frappuccino on the regular Starbucks menu. It contains 12 ounces of drink. A freshly brewed cold coffee contains 60 calories. You can add different syrups and sauces like brown sugar, caramel, hazelnut, mocha, etc., to suit your taste. There are also other customization options available. It has a single shot of espresso unless you ask the barista for another one.
Grande
A Grande size iced coffee cup contains 16 Oz of fluid and 80 calories. A grande coffee includes two shots of espresso unless you order more. Starbucks offers a variety of customization to choose from. Grande in Italian means "large." However, it's not the most enormous cup size on the menu. Hot coffee beverages and Frappucino are also served in this size.
Venti Hot
Venti in Italian means twenty, which is approximately the number of ounces you get in this cup size. Starbucks Venti comes in two versions. Venti Hot has 20 ounces of fluid, and it's the most economical for hot beverages.
Venti Iced Coffee
Venti Iced and Frappuccino coffee have 24-oz. of fluid. The extra 4-oz. are for the ice cubes. However, you can ask the barista not to add ice cubes and get extra four ounces of coffee instead.
Venti Cold can have three and a half shots of espresso, and the hot variant only has three. A 24-oz. Venti Iced coffee carries 120 calories per serving.
Trenta
Trenta is the largest of all sizes and is only available for iced coffee and other cold brews. In Italian, it means "thirty," which is also the amount of coffee present in the Trenta cup. It's equal to four cups of regular coffee and has at least 4 shots of espresso. Trenta is also the most economical of all sizes.
Other Sizes
There are two more sizes that are only available for hot coffee beverages.
Demi
Demi means half cup in french. It's short for "demitasse." As the name suggests, it is the smallest of all sizes. Demi contains only 3 oz of coffee, which can include at least three shots of espresso. A small yet powerful drink to start the day.
Short
Short used to be regular on the Starbucks menu, but it was taken off after the introduction of the "Tall" size. It got 8-oz. of capacity and was used to serve hot coffee. Surprisingly, many Starbucks outlets still have this size reserved for a hot drink on their secret menu.
How much caffeine is in different Starbucks iced coffee cup sizes? 
Caffeine is what we all crave in coffee, apart from the robust taste and aroma. Caffeine content mainly depends on the brewing method, seeds, and liquid-to-coffee ratio.
For example, a regular brewed coffee has 235 mg of caffeine when compared to an espresso shot which only has 75 mg. That said, brewed coffee is less concentrated, so when serving the same size —A standard shot, for example, espresso coffee will carry out a much stronger punch.
Here is how much caffeine content is present in Starbucks-iced brewed coffees.
| | |
| --- | --- |
| Starbucks cup size | Caffeine (milligram) |
| Tall | 120 |
| Grande | 165 |
| Venti | 235 |
| Trenta | 280 |
How much sugar is in different Starbucks Iced coffee cup sizes? 
The amount of sugar in your coffee depends upon the add-ons and customization you order in Starbucks. However, you can get an estimate of how much sugar there is in a standard-sized Starbucks cup.
| | | |
| --- | --- | --- |
| Cup Sizes | Sugar in Iced Coffee | Sugar in Frappuccino |
| Tall | 15 g | 31 g |
| Grande | 20 g | 45 g |
| Venti | 30 g | 59 g |
| Trenta | 39 g | – |
Sugar per Starbucks Iced coffee cup sizes
How to tell small, medium, and large Starbucks iced coffee cup sizes?
Are you still confused about the different Starbucks iced coffee sizes? Here is a quick guide for you to understand the sizes in a much simpler way.
Small
If you want the smallest cup, then order Starbucks' Tall Iced coffee. It's 12 oz. of refreshing cold brew.
Medium
Starbucks' Grande sizes fall in the medium category. Grande contains 16 ounces of fluid and is available in all types of coffees like hot, cold, lattes, and Frappuccino..
Large
Starbucks' Venti Cold and Trenta are considered the biggest cup sizes on the menu. Venti Cold contains 24 ounces, while Trenta cup size contains a whopping 30 ounces of fluid.
Do Starbucks' iced coffee, hot coffee & Frappuccino have different cup sizes? 
Yes, they do. Starbucks' wide range of delicious coffee has a slight difference in their cup sizes. For more details and exciting tips, read on to the next section.
How do you order Starbucks iced coffee like a regular?
With so many variations of coffee and add-ons on the menu, you can quickly get confused and intimidated. At the same time, you don't want to mess up your order and brood over whatever you end up with!
I'll walk you through the simple steps of getting a perfect cup of iced coffee the next time to head to Starbucks.
Option 1: "I'll have a basic iced coffee, please."
The easiest and no-hassle way is to ask your barista for a "classic cup of iced coffee." Now, know that this is a sweetened (unless you specify it to be unsweetened) cup of freshly brewed black coffee in ice. You can always flair things up by asking your barista to add some cream, milk, sugar, or any other sweetener of your liking.
If you want that morning kick to start the day, you can always ask for a few shots of espresso in your iced coffee. Experiment with more add-ons. Don't be shy! Baristas really want you to get the best coffee.
Option 2: Try out cold brew coffee!
Try out cold brew coffee if you want to spice things up for a change.
Unlike iced coffee that is brewed in hot water, cold brew coffee is brewed in cold or room temperature water. This unique difference changes its texture and makes it smoother and stronger.
Starbucks offers many exciting flavors in cold brew coffee. Although they are constantly adding new flavors to their menu, at the time of writing this, they have:
 Chocolate Cream Cold Brew
 Salted Caramel Cream Cold Brew
 Starbucks Reserve Cold Brew
Starbuck Cold Brew Coffee
Vanilla Sweet Cream Cold Brew
 Starbucks Cold Brew Coffee with Milk
 Nitro Cold Brews
Play with new syrup flavors, sauces, cream toppings, and add-ons to surprise your taste buds.
Option 3: Flavored Iced Coffee
If you're short on time or just don't have the energy to customize your beverage, why not tap into Starbucks' pre-made menu? Starbucks offers myriads of flavored iced coffee, such as,
 Iced Toasted Vanilla Oat Milk Shaken Espresso
Iced Cinnamon Dolce Latte
 Iced Caramel Macchiato
Iced White Chocolate Mocha
…to name a few.
Find your favorite flavor and enjoy your delicious cup of coffee.
Do you get free refills in Starbucks?
Yes, you can. To qualify for free refills, you have to use Starbucks' app or a registered company's app to buy a drink. Although, these free refills are only applicable for a few options on the menu. Starbucks' Iced Venti and Trenta give the best value when combined with free refills.
Is Trenta available in Starbucks?
Yes. The Trenta Iced coffee is still available in the Starbucks stores. The confusion about its unavailability came from the fact that the Trenta Frappucino got discontinued. Right now! Trenta size is only available for Starbucks cold coffee beverages.
Smallest cup size for Starbucks coffee? 
The smallest cup size served in Starbucks is "demi" for espresso shots only, and then "short," which is only for hot beverages. 'Short' contains 8 oz., while a demi contains 3. For Iced coffee and Frappucino, the smallest size is "Tall," which contains 12 fl. oz. of fluid.
Which is the largest cup size for Starbucks Coffee?
The largest cup size in Starbucks is "Trenta," which is only for Cold Coffee beverages. It contains 30 fl. oz. of fluid. For Hot Coffee and Frapuccino, the largest size is Venti. It has two variants, 20 and 24 fl. oz. Starbucks serves hot beverages in 20 oz. and Frappuccinos in 24 oz. cups.
Is Trenta size safe to drink?
Trenta-sized iced coffee may be too much for a newbie, but the caffeine content is safe enough to consume on a single day. Two Trenta-sized cups contain roughly 400 mg of caffeine which is safe according to dieticians.
Does iced coffee make you gain weight?
Not really, Starbucks' Iced coffee is much healthier and has fewer calories and sugar compared to other beverages like Frappuccino and Lattes. It's because of the lack of milk and crème in the drink. Although, adding different syrup and sauces can increase the overall calorie count in the regular drink.
Final Thoughts!
By going through our simple yet extensive guide, you may now have a clue about what size to order the next time you visit Starbucks. The best way to choose is to experiment and see what gives you the right amount of caffeine to lift up your day.
I personally find Venti Iced coffee to be the perfect amount in the morning. It's not too large like Trenta and not too small like Tall and Grande.