The battle for single-dose grinders is a tough one. Their competitive pricing and great-many features make it a very strenuous task to differentiate what's the best grinder for you. After all, not everyone has the same coffee needs.
That said, the recent launch of an unknown Chinese-brand coffee grinder has been causing havoc among single-dose grinders. A grinder that has given many reputable coffee-grinder companies a run for their money.
In fact, many have been comparing premium coffee grinders, like the Lagom P64, alongside it. So is the hype really worth it? And, how does that grinder compete with the Lagom P64? Let's find out.
Lagom P64 vs DF64 – Features & Specifications.
Lagom P64
DF64
Available on Prima Coffee
Latest price on Amazon
Single-dose grinder
Single-dose grinder, Sold under different names, like Turin 64S4, Solo, & G-IOTA, depending on the region.
SSP 64mm flat burrs.
Selection of 3 burr types:
SSP Unimodal Espresso/
Multipurpose SSP
High Uniformity SSP
Brew (Unimodal V1)
Selection of multiple burr sets:
Standard Burr.
SSP Red Speed Burr (High uniformity).
SSP Red Speed Burr (Multipurpose).
SSP Red Speed Burr (Filter Brewing).
Titanium Burr (4x harder)
SSP Lab Sweet Cast Burrs
Dimensions: 21 x 13 x 38 cm.
Dimensions: 32 x 21 x 40 cm.
Weight 7.8 kgs
Weight 7.7 kg
Metal construction for a premium look.
Part-metal construction.
Close to zero retention BLDC motor for exceptional controllability. Stepless grind adjustment collar settings.
No retention Stepless grind adjustment collar settings
200-1400 variable RPM controlled by a 1 to 9-level knob.
Fixed 1400 RPM speed
Lagom P64 vs DF64 – Key Features
Lagom P64 vs DF64 – Pros & Cons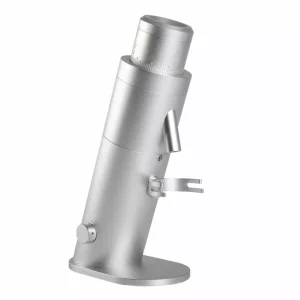 Lagom P64 Pros
Stunning design and exceptional build quality: The overall design language is one of the reasons why people would buy the P64 in a heartbeat.
For that price, you should not be in a position to complain. With its tilted design, some may even say that the P64 looks somewhat similar to the Weber EG-1, which is a $3,800 premium coffee grinder.
From the adjustment collar to the dosing cup, everything you touch feels expensive and well-made. You can feel your 1500 bucks being put to use.
Selection of burr types: Offering to choose from a selection of three different types of burr sets is something that no other manufacturer does at this price range. This goes to show how valuable the customer's taste preferences are to Option – O.
The availability of different burr sets gives you more freedom in choosing different types of brews and modern espresso. For example, the SSP high uniformity burrs are the best if you fancy clarity over the texture in your coffee. The other burrs work in the same manner.
Lagom P64 Cons
Expensive and sold out: $1,475 is the starting price of P64 and that includes standard burrs. For the high uniformity SSP red speed burrs you'd need to squeeze out a bit more cash.
Eventually, you'll be looking at around 1650 bucks for the black-colored P64 with high uniformity burrs, EXCLUDING shipping.
Say that you have mustered up the courage to spend $1,500 on a coffee grinder but chances are you still won't be able to buy it. The P64 is directly shipped from China, and because of that, there are some shipping delays.
Also, thanks to its popularity, the p64 gets sold out pretty quickly. If you are looking to buy a P64, expect a couple of months of wait.
Confusing variable RPM control: Adjusting the variable RPM is very annoying. Instead of showing what the actual RPM is, the RPM is adjusted through a knob that shows nine stages of variable RPM settings.
At this price point, one should not be expecting such nuisances, which is a shame as the rest of the machine is very well-built and easy to use.
DF64 Pros
Price: There is no harm in saying that the DF64's price is its major selling point. Unlike the P64, not only is it available but it also addresses the issue of its price.
It offers part-metal construction, flat 64mm burrs, and many other features that have put other similarly-priced reputable coffee grinders at shame.
Burr type selection: Surprisingly, the DF64 offers a plethora of burr sets to choose from. This gives you even more control over your coffee profiles like its sweetness level, its clarity, and its texture.
In addition, there are a number of distributors who sell the DF64. So if you are looking for some parts or even some used DF64, you are certainly not limited.
DF64 Cons
Build quality issues: Many users have complained about the misaligned burrs in their DF64 which gives off a very poor impression. Because of this, they have to install mods.
The most usable item among coffee grinders is the dosing cup. However, the plastic dosing cup that comes with a standard DF64 feels cheap and flimsy. Even the Niche Zero, which the DF64 competes against the most, has a superior-quality metal dosing cup.
Even though some distributors offer a metal dosing cup, it will require further (money) bleeding.
Surprisingly, and weirdly enough, the on/off button for the DF64 has been doing everyone's head in. Users can't get over the fact that the button is so weirdly placed. Overall it makes up for an unsatisfactory user experience.
No variable RPM: This is a major turn-off for those who are interested in the DF64 but also want the variable RPM settings. For some, having no variable RPM in a coffee grinder is the same as setting a fixed temperature for your air conditioner.
So your choices are somewhat limited.
Having variable RPM allows you to freely choose between shot times, finer grind settings, and pour-over coffee. This is important for those who like to experiment with their coffees and since we're all coffee nerds here, we'd very much like that.
Lagom P64 vs DF64 – Who Are They For?
If you are looking for a better workflow and excellent user experience, we'd highly recommend the Lagom P64. Undoubtedly, it has a far better user experience than what the DF64 has to offer.
The attention to detail on the DF64 is a hit and miss like the misaligned burr, the plastic dosing cup, the flimsy portafilter fork, and the hopper popcorn effect. Such factors can make your experience a frustrating one.
So the Lagom P64 is for those who want a good experience right out of the box and want to avoid petty things like aligning the burrs and installing 3rd party mods. The Lagom P64 will make you forget that grinding coffee is even a chore.
Secondly, if you are nitpicky and can taste the slightest difference in your coffee, the Lagom P64 is for you. The high uniformity burrs offer close to zero retention which makes for a perfect shot size.
Although the DF64 produces tasty coffee, you still won't feel any night and day difference. So, it is safe to say that you get what you pay for.
However, this certainly does not mean that you should sideline the DF64. If you like the P64 but can't stretch your budget enough, we'd recommend considering the DF64.
With the right mods and high uniformity SSP burrs, you've basically got a poor man's P64. Yes, the workflow may not be as better but once you get used to the DF64, it will work like a charm. You can do all that in less than half of what the P64 costs.
Turin DF64 vs Niche Zero
The Niche Zero is a highly capable single dose grinder that makes sure to tick all boxes when it comes to being one of the best value-for-money coffee grinders. Apart from being a great all-rounder, it intends not to try too hard.
The Niche Zero is very appropriately priced for its features and makes up for a very affordable option.
Put against the Turin DF64, the Niche Zero is somewhat similarly priced to the Turin DF64. Albeit, there are a couple of features that separate these grinders, the main one is the burr type. The Niche Zero uses a conical burr setup as compared to the flat ones in the DF64.
Now, onto the question that matters— is the Niche Zero better than the DF64? Simply put, yes. The Niche Zero looks sleek, has a better workflow, and has an overall better user experience.
Also, thanks to its conical burr sets, the machine is exceptionally quiet and less prone to overheating issues. The Niche Zero excels in building heavy-bodied texture and rich flavor in coffees.
The Verdict
If this was a review for the DF64 alone, we'd recommend placing an order straight away. However, such is not the case, and since we are comparing it to the Lagom P64, there's a clear winner.
The P64's price is very premium and almost unmatchable to the DF64. In the end, you get what you are paying for: better smoothness, better texture, better workflow, and finer grind settings. Also, all these factors help in justifying its price.
If the P64 costs 2.5x more than the DF64, then its worth is also 2.5x more.
As for the question of hype; yes, it's worth it. There's no other coffee grinder manufacturer that offers the type of burrs settings that DF64 does.
Sources: