When it comes to espresso, many would argue that more automation doesn't necessarily mean better taste. And I find that especially true when it comes to spring lever espresso machines.
In fact, the beauty of the spring lever principle is mechanical ingenuity. They're simple, versatile, and consistent. So once you get the hang of manual extraction, expect an unmatchable cuppa taste, each and every time.
Best spring lever espresso machines
In this guide, I've compiled a comprehensive list of some of the best spring lever espresso machines available this year with pros and cons.
Elektra S1C Microcasa a Leva
Elektra micro casa is an efficient espresso maker that will deliver great-tasting espresso coffee, time and time again.
And, while your average coffee maker's sound can be quite uneasy on the ears, this machine performs a hush-hush job, so for someone who requires a silent coffee maker, Elektra is the perfect partner.
When hunting for a good espresso machine, an important part to look at is the boiler.
Elektra delivers in this territory, providing a brass boiler equipped with armor-plated heating that helps in providing the proper temperature for both the water and the steam wand. Additionally, an internal pressure regulator is installed to stabilize the parameters.
The brass boiler also takes care of frothing by providing enough power to produce dry steam.
What Elektra lacks in automation, it makes up for in the design. In fact, its classy bright chrome finish makes it stand out in any space,
And when they say looks can be deceiving they definitely mean Elektra's lever handle, which might look like it's wooden but in fact, it's made of Bakelite (a synthetic plastic) making it long-lasting, and humidity-resistant.
Elektra also has adjustable side-mounted steam, so you can achieve the perfect angle for steaming. And, to ensure the provision of café quality foam every time, the wand has a three-hole tip.
Activation is really a piece of cake, just turn the knob on the base of the steam wand, and voila! Let there be steam.
Another plus would be Elektra's safety features. As a matter of fact, the boiler has a pressure release valve on top of it and a built-in safety thermostat to prevent damage to both the machine and the user.
For example, if there is no water left or if the machine overheats for any other reason, the built-in safety thermostat will turn the machine off.
However, I would highly advise checking the instructions about the water level carefully: A- To prevent any unforeseen overheating and B- damage-by-lack-of-water is void of warranty.
PROS:
Both the pressure and temperature are maintained by the regulators while the hand pump is in use.
CONS:
Managing the shallow drip tray
A little bit messy.
Machines exterior needs a little maintenance: exposed boiler.
Alexa Leva by IZZO espresso
IZZO Alexi LEVA is a Consumer-Friendly mix of Rizzo's Pompeii and Alex duet, if you are a fan of IZZO Alexa leva is the machine for you.
The machine comes with a stainless steel body, PID controller with adjustable display, direct plumbing, and a double Decker cup warmer with steamer.
If you want to take the classy ambience of your kitchen to a whole new level, well, Alexa does do the job! its Glistening stainless steel design along with the crafted details on its lever system sure help give it that elegant treat-for-the-eyes kind of look.
Temperature can easily be adjusted using buttons on either side of the controlled display which can be accessed from the front of the machine to maintain temperature stability and an electronic PID is also installed.
Now here is a neat feature we haven't reviewed yet: A cup warming system. On the very top of the appliance lies a cup warming tray. The system is controled using an orange lever by the power switch. Once turned on, water surges into the top and is then converted into steam.
And while the cup warming system does add a few inches in height, it's remains a really handy addition to the Alexa Leva.
And if you're keen to show off some Latte skills, this machine perfectly uses dry steam to produce micro foam, both wands are controlled with personalized knobs and are adjustable. The wands are also anti-burn, which is a great safety plus.
PROS:
Pre infused Lever action
Option to attach the hose to the drain drip tray automatically.
CONS:
Has no reservoir; will run only on a direct water line connection
Profitec Pro 800
The Profitec Pro 8 is one of the most popular manual spring lever espresso makers available on the market today, and as many would confirm, it is guaranteed to give you exceptional results with the quality of espresso you can prepare.
This machine has successfully fused the traditional and modern look into one captivating setup.
In fact, the spring lever design will take you to espresso's earliest days, back when automation was never to be envisioned, while the PID, vibratory pump, and the overall way it was internally engineered will offer you that modern taste of technology.
To maintain its classic style, the designers have hidden the PID for the boiler temperature at the back of the drip tray. A 1500-watt heating element heats up the boiler, but to make the best of its performance, you might want to consider giving it a tad bit longer to warm up.
The key feature that most of the manual spring lever espresso machines do not offer is pressure profiling. Basically, thanks to this unique feature, Profitec Pro will allow you to start and stop the lever while pulling a shot. This gives you the ability to adjust the brewing pressure, and therefore offering you the upper hand to optimize extraction.
In the meantime, the group head acts as a heat sink, allowing you to get a stable temperature while you brew .
In addition, the profited pro 800 perfectly handles both the pressure delivered by the lever and that coming from the group head. And whilst pulling your espresso shot, you can monitor the pressure from the gauge on the front side of the machine.
The appliance is also equipped with a massive 3.5-liter copper boiler which is regularly filled up using a vibratory pump.
Not only that, but you can easily froth milk as the boiler provides plenty of steam pressure. Steaming will also only take up to a minute, preserving a considerable amount of pressure. That's because the Steam wand has a rapid steaming pace, courtesy of its stock 4-hole steam tip.
All in all, this espresso machines is one of our few favorites out there, and depending on your budget and requirements, you can decide whether or not it fulfills your need.
PROS:
Double wall, a no-burn design on both the steam want and the hot water wands.
Easily switchable to a fixed water connection, from its own water tank.
Cons:
Takes up a lot of kitchen space
A little daily maintenance, cleaning wise.
Very costly
Quick mill Achilles
One thing for sure, a traditional lever machine lover will fall in love with the quick mill Achille! I mean, just take a look you will understand why!
Some of the highest quality materials are used in the construction of Achilles, the exterior is acid stain-resistant with a 304-grade stainless steel. The design of the lever is quite similar to a manual lever design, and the handle is equipped with a grip for easy operation and comfort.
And while it might look traditional, it can't be mistaken for that old-fashioned espresso machine. In fact, the Quick Mill Achille is pretty unique in this regard, offering a combination of technology, trust and durability.
Now what makes Achille different from its contenders is its Silent rotary pump, while most coffee makers use vibratory pumps, which can be a bit loud at times, This is why, Quick mill is often marketed as the machine that works hard in silence, letting its Espressos make the noise.
QMA's boiler features an electronic fill probe, which comes with a 4.5-liter capacity and can be automatically recharged, allowing you to craft up to 20 drinks at a time.
In addition, the copper boiler is well insulated and will help deliver the best espresso extraction by keeping the temperature stable, while also providing the necessary overheating protection to all other components.
Of course, you can keep an eye on the boiler pressure through the visible gauge mounted on the front side of the machine.
Most of the time, the costly damage is done when the espresso machine's pump overheats. As a safety feature, the rotary pump is equipped with a thermal overload protector and an automatic shut-off feature. Other safety features include an exterior safety valve and a recharge thermostat.
Also Quick Mills' two Stainless steel wands are also equipped with a no-burn technology, keeping them cool to the touch.
PROS:
High Capacity, about 20 shots per hour.
Silent operation
Sleek Design
CONS
Does Not Have A PID.
Quite heavy.
On the Expensive side.
LONDINIUM R24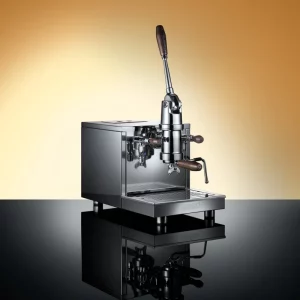 They are said to make the art of espresso fun and easy at the same time!
if you're interested in learning more about these machines, read our full review on the Londinium espresso here.
Overall, the main feature of the Londinium is that you can leave it on all day and the group will not get hotter with every shot, instead, the temperature will remain stable, meaning you won't need to raise the group temperature by flushing it every time you pull a shot.
And if you need to increase or decrease the pre-infusion pressure, you don't need to wait for the group temperature to shift —This is another great feature Londinium offers; just dial in the new settings and pull your shot.
The Variable pre-infusion pressure, Heat exchanger, and Thermo siphon are all controlled from an app with a wifi link through your Smartphone. How's that for techspresso?
 This is one of those machines which is of age but is also smart, the r24's controller app includes a smart timer supporting the schedule of your choice.
Additionally, a 24 volts rotary pump feeds a lead-free brass fitted pure copper boiler, and draws water from a 3ltr water reservoir.
The R24 has developed a digital pre-Infusion system as it replicates the pressure-reducing valve and pressure gauge on the Londinium I, II, III Commercial machines.
Pre-infusion pressure, brew temperature, and brew volume, all three values are controlled in Londinium machines —By just the pre-infusion pressure system as it optimizes your roast accordingly.
On a frothing note, milk can be textured in a matter of seconds, via a four-hole tip wand. All the handles are solid hardwood 3mm powder coated zintec steel chassis, which is doubled to 6mm in the area where the high load is faced.
All in all, Londinium has premium quality stainless steel coverings all over the body, laser-cut and mirror-polished steel to give it an elegant look.
PROS:
Allows self service with free support.
No cooling shots, no warming shots, no back flushing. Just keep pulling your shots.
CONS:
Very Heavy
Bulky, and can use up a lot of space
Super expensive
Final Thoughts:
We know the word lever gave it away, and many would lift an eyebrow at you when deciding to buy a manual espresso machine when you could buy an automatic or semi-automatic one.
Well, one popular reason among coffee aficionados is the fact that when you use a spring lever espresso, you are and will always be in control of all the extraction steps. Oh, and the designs they come in are also quite the gift.